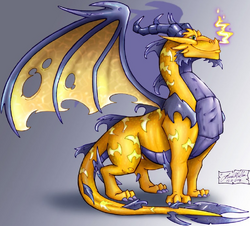 Volteer (ヴォルティア, Borutia), also commonly known as Master Volteer (マスター・ボルティア, Masutā Borutia), is an Electricity Dragon, and the Sage of that thunderous element.
"A purple dragon named Spyro. Amazing. Of course, there were unsubstantiated rumors of a purple dragon countless generations ago, but most consider it hearsay, gossip, legend. It's hard to believe, difficult to fathom, amazing to comprehend...er...um..."
—Volteer.
Appearance
Edit
Voice actor: Corey Burton (English), Ryūsei Nakao (Japanese), Michel Bedetti (French), Riccardo Rovatti (Italian), Jan Spitzer (German), Juan Rueda (Spanish), Lars Thiesgaard (Danish), Ole Lemmeke (Finnish), Bruno Lähteenmäki (Norwegian), Gunnar Ernblad (Swedish), Bas Westerweel (Dutch), Borislav Porkhomovskiy (Russian)
Biography
Edit
Appearance
Edit
Attributes:
Edit
Background
Edit
Personality
Edit
Quickwitted and fleet of foot, this lightning dragon says more than necessary and simply explodes onto any subject that sparks his interest. He is the most intellectual of the Dragon Sages. Well-versed in lore and legend of the dragons of old, he is only too happy to add to any tale - as a wyrm of words, his spectacular speech will sizzle your sound sensors and burst your brain cells. And, according to Sparx, his stories 'will put anyone to sleep'. Volteer may very well have swallowed a Thesaurus with all that he can fit into a sentence! Nevertheless, he is a friend and fellow to all, though none can keep that electric tongue of his from constantly wagging.
Relationships
Edit
Friends/Allies
Edit
Relationships
Edit
Friends/Allies
Edit
Abilities and Powers
Edit
Being the most excitable of the sages and as a master of electricity, he is competent in all electric techniques, best suited for battles in the air allowing him to whip, whirl, flash, and fry enemies that may whizz by, even can quickly dispatch his enemies with little effort.
Physical Abilities
Edit
Combat Skills
Edit
Fighting Style
Edit
Techniques and Moves
Edit
Electricity

Electrokinesis
Electric Breath
Electric Fury
Electric Bomb
Electric Wall
Electric Stream
Electric Shot
Electric Bomb
Electric Flail
Electric Pound

Electric Style: Dragon Cannonball
Melee Combat
Aerial Combat
Fly
Barrier
Regeneration
Miscellaneous Skills
Edit
Since dragons, are also reptiles, he has a natural ability to regrow his parts.
See Also=
Edit
External links
Edit
Notes & Trivia
Edit