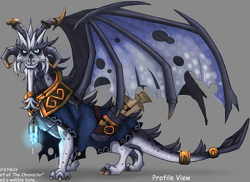 The Chronicler (クロニックラー, Kuronikkurā) is an ancient, grayish-light blue dragon. As one of the last members of a benevolent race called the Ancients, he is thousands of years old and contained immeasurable wisdom and knowledge; he is also the dragon chosen to watch over the Books of Time, which have recorded almost every part of history and every living being has a book dedicated to their lives.
"You shall know me as the Chronicler. Seek me out."
—The Chronicler.
Appearance
Edit
Voice actor: Martin Jarvis (English), Michihiro Ikemizu (Japanese), Jean-Claude Donda (French), Riccardo Rovatti (Italian), Jürgen Kluckert (German), Jesús Ferrer (Spanish), Lars Thiesgaard (Danish), Petri Hanttu (Finnish), Yngvar Numme (Norwegian), Jacob Nordenson (Swedish), Johnny Kraaijkamp jr. (Dutch), Not Known (Russian)
Biography
Edit
The Chronicler is a wisened and all-knowing scholar, ancient beyond measure. He a member of the Ancients and a historian sage, a custodian of all histories and Lore, bond to his home in the Celestial Temple.
Appearance
Edit
In the Young Days
Edit
In Present Time
Edit
Possible Future
Edit
Background
Edit
Personality
Edit
Living in isolation for over 1000 years, the Chronicler is a well-learned dragon with a flare for the dramatic when it comes to speech. He serves as a narrator of sorts and is a background character more so than anyone else, watching the events that unfold rather than taking any real direct action. The nature of his role as the Chronicler makes him a firm believer in destiny and he often reminds Spyro that sometimes their "paths are chosen for [them] and that it is [their] destiny to follow them, where ever they may lead." Although he can often see the right direction to take, the Chronicler isn't so narrow-minded as to stick to one path and can be persuaded to take another, as shown when Spyro refused to do as the Chronicler asked and wait with him in safety while Spyro's sister fell to Malefor's control once again.
Relationships
Edit
Friends/Allies
Edit
Abilities and Powers
Edit
The powers that come with the role of the Chronicler include Telekinesis, Dream Manipulation, Light and Time itself.
Physical Abilities
Edit
Combat Skills
Edit
Fighting Style
Edit
Techniques and Moves
Edit
Miscellaneous Skills
Edit
Since dragons, are also reptiles, he has a natural ability to regrow his parts.
Weaknesses
Edit
External links
Edit